With a selection of ceremony sites, plenty of photography opportunities throughout the property and a capacity of 250 guests, Farm Weddings is an idyllic setting to host your day from start to finish.
Our large grassed areas enveloped by native flora make for the ideal setting for your day, and the entire venue is available exclusively to you and your chosen Guests.
Our Team will assist with all you need to celebrate the best day of your life. View our wedding packages for detailed information and inclusions.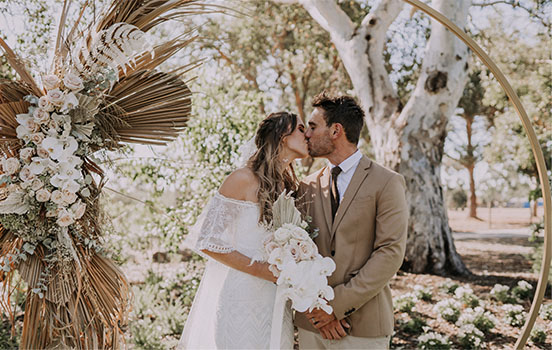 GUM TREE GARDEN
This area is perfect for larger wedding ceremonies; surrounded by established Gum Trees, native grass trees and our iconic pickup truck. This area is the ideal blank canvas for you to create your perfect wedding.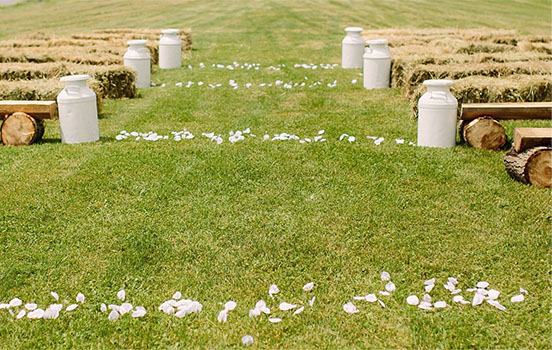 THE BACK PADDOCK
The Main Lawn is the perfect location for your vendor to set up their marquee. It can be used for both your ceremony and reception and the placement allows for your reception to flow out into the beautiful rural surrounds.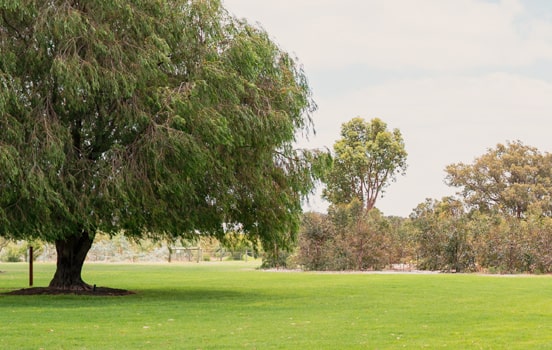 THE PEPPERMINT TREE
Our ceremony lawns are set among beautiful native trees, the weeping Western Australian Peppermint (Agonis flexuosa) is no exception. This scenic location creates a stunning and varied backdrop for your wedding photos. These trees have a rich history in the region; the Noongar peoples used the plant leaves as an antiseptic – to cleanse and be purified.
Farm Stay Package ($4420)
Our Farm Stay Package is perfect for couples who are looking for a laid back and relaxed wedding weekend! With this package, you will have exclusive access to our beautiful venue anytime from Friday 3pm through to Sunday 3pm and includes 2 nights of accommodation. Set up on Friday afternoon and then stay for a relaxing evening with family and close friends! Wake up on Saturday for a leisurely morning of wedding preparations and make use of the rustic setting for some stunning pre-ceremony pictures!
Celebrations can continue late into the evening with the option for you and your guests to stay the night and enjoy full use of our facilities and a stress-free day of pack down on Sunday.
Our 130 beds dormitory style accommodation, included in our Farm Stay packages, allows you and your guests to spend the night away and make use of the complete kitchen facilities to continue the celebration over breakfast in the morning. Please feel free to ask our Team about catering packages.
Upgrade to our premium accommodation hut The Lodge is available to the wedding party for just $135 per night per room. Each of the three rooms available includes a double bed, ensuite and air-conditioning.
We welcome you to add your personal touches to our venue to make the day your own and have provided a list of preferred suppliers on our website to help you with the planning process.
All Inclusive Ceremonies and Receptions
We have partnered with Jacqui from Wedding & Events Unlimited to make planning your dream wedding easier. Jacqui and her Team offer a number of packages designed to include everything and to cater for all styles and budgets.
All wedding planning and coordination is included… Just choose a Date!
Deluxe ceremony and cocktail reception ($19,900)
Ceremony and sit down reception ($24,900)
For more information on the Farm Weddings Packages or to receive a quote click here.